Prediksi
Liverpool 1-3 Manchester City
Lebih Dari 2.5 Gol
Manchester City Asian Handicap -1.00
Catatan Penting
Liverpool hanya meraih 10 poin dari delapan pertandingan Liga Primer mereka musim ini, rekor terburuk kampanye klub pada tahap ini sejak musim 2012-13 (9 poin). Mereka sudah mengalami dua kekalahan musim ini, jumlah yang sama seperti yang mereka alami sepanjang musim 2021-22 (2).
Manchester City hanya kalah sekali dari 37 pertandingan terakhir di Liga Primer, dan tidak terkalahkan dalam 21 pertandingan terakhir mereka (M16 S5). Di luar kandang, The Citizens juga tidak terkalahkan dalam 22 pertandingan Liga Primer (M16 S6), rekor terpanjang keempat dalam sejarah kompetisi.
Manchester City telah membuka skor di lebih banyak pertandingan Liga Primer ketimbang tim lain musim ini (8), sementara hanya Southampton (7) yang kebobolan gol pertama lebih sering daripada Liverpool (6). Memang, The Reds telah kebobolan lebih dulu dalam 10 dari 12 pertandingan liga terakhir mereka, jumlah yang sama dengan yang mereka lakukan dalam 41 pertandingan sebelumnya.
Performa: Liverpool
Performa dominan di babak kedua membuat Liverpool menghancurkan Rangers dengan skor telak 7-1, hasil yang dengan tegas mengakhiri peluang tim asal Skotlandia itu untuk lolos dari Grup A Liga Champions musim ini. Mohamed Salah masuk dari bangku cadangan untuk mencetak tiga gol hanya dalam waktu 6 menit 12 detik, hat-trick tercepat dalam sejarah Liga Champions.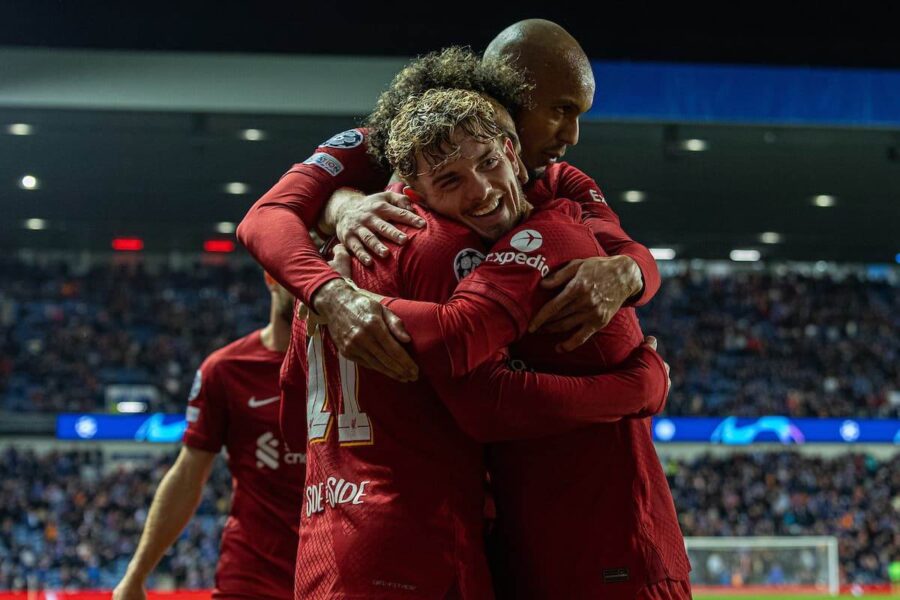 Kemenangan itu akan meningkatkan kepercayaan diri armada The Reds menjelang pertandingan penting pekan ini dan mereka tentu saja akan bersemangat untuk mendapatkan hasil maksimal.
Performa: Manchester City
Manchester City memastikan lolos ke babak sistem gugur Liga Champions musim ini setelah bermain imbang 0-0 dengan FC Copenhagen. Byens Hold, julukan bagi FC Copenhagen, masih belum mampu mencetak gol di UCL musim ini, sementara enam kemenangan beruntun Citizens di semua kompetisi harus berakhir.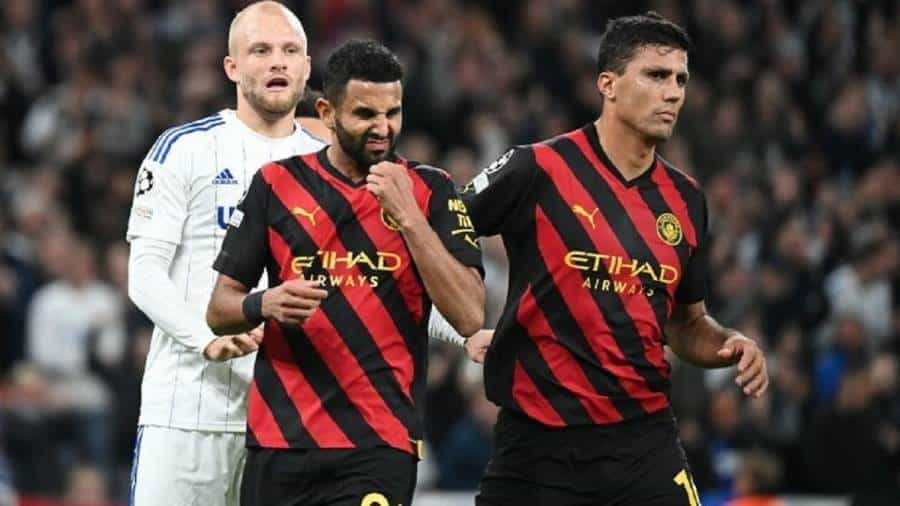 Meskipun City masih belum terkalahkan di Liga Primer musim ini tetapi status itu akan diuji saat melawan rival besarnya.
Fakta- fakta Seputar Liverpool VS Manchester City
Liverpool belum pernah menang dalam lima pertandingan terakhir mereka di Liga Primer melawan Manchester City (S3 K2) – mereka tidak pernah mengalami enam laga tanpa kemenangan melawan Citizens dalam sejarah pertandingan mereka di liga.
Manchester City telah mengumpulkan empat poin dari dua pertandingan tandang terakhir mereka di Liga Primer melawan Liverpool, hanya satu poin lebih sedikit dari yang mereka peroleh dalam 17 kali kunjungan sebelumnya ke Anfield (S5 K12). Mereka ingin tetap tak terkalahkan dalam tiga pertandingan tandang liga berturut-turut melawan The Reds untuk pertama kalinya sejak Desember 1992.
Liverpool telah mencetak setidaknya dua gol di masing-masing dari empat pertemuan terakhir mereka dengan Manchester City di semua kompetisi (M2 S2) – belum pernah ada tim yang mampu mencetak setidaknya dua gol dalam lima pertandingan berturut-turut melawan tim yang dilatih oleh Pep Guardiola sebelumnya.
Liverpool telah memenangkan 22 pertandingan Liga Primer melawan juara bertahan, enam kali lebih banyak dari tim mana pun. The Reds tidak terkalahkan dalam 13 pertandingan kandang terakhir mereka melawan juara bertahan (M7 S6), sejak kalah 1-0 dari Manchester United pada Desember 2007.
Pemain Kunci Yang Harus Diwaspadai
Erling Haaland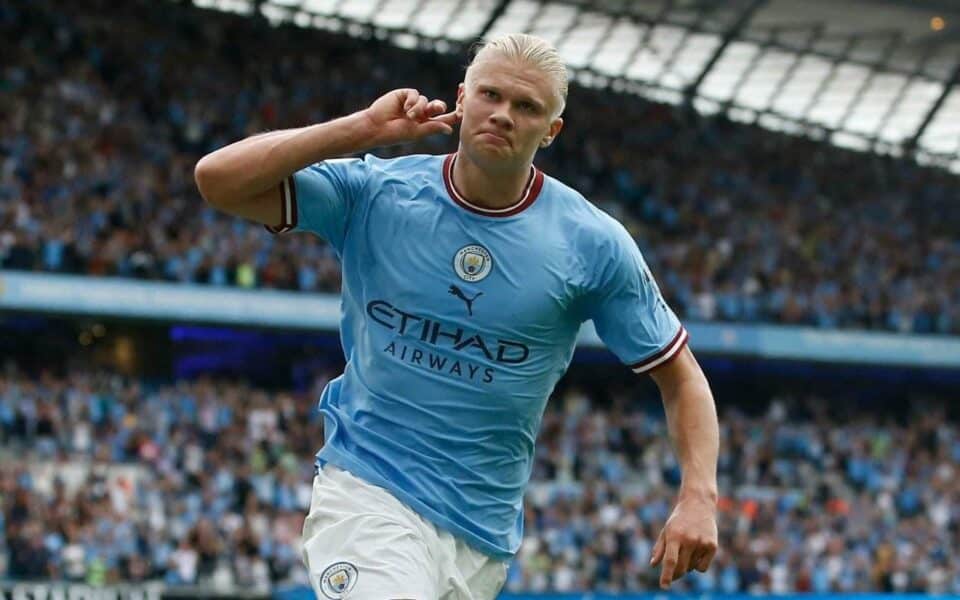 Penyerang Manchester City Erling Haaland telah bermain dalam sembilan pertandingan Liga Primer hingga saat ini, dan siap untuk memecahkan rekor gol terbanyak (sekarang 15) dan keterlibatan gol terbanyak (18) dalam 10 penampilan pertama seorang pemain di kompetisi ini. Rekor untuk gol terbanyak yang dicetak oleh seorang pemain dalam 10 pertandingan pertama di Liga Primer masih dipegang oleh Luis Suárez dengan 16 gol untuk Liverpool antara Oktober-Desember 2013.
Mohamed Salah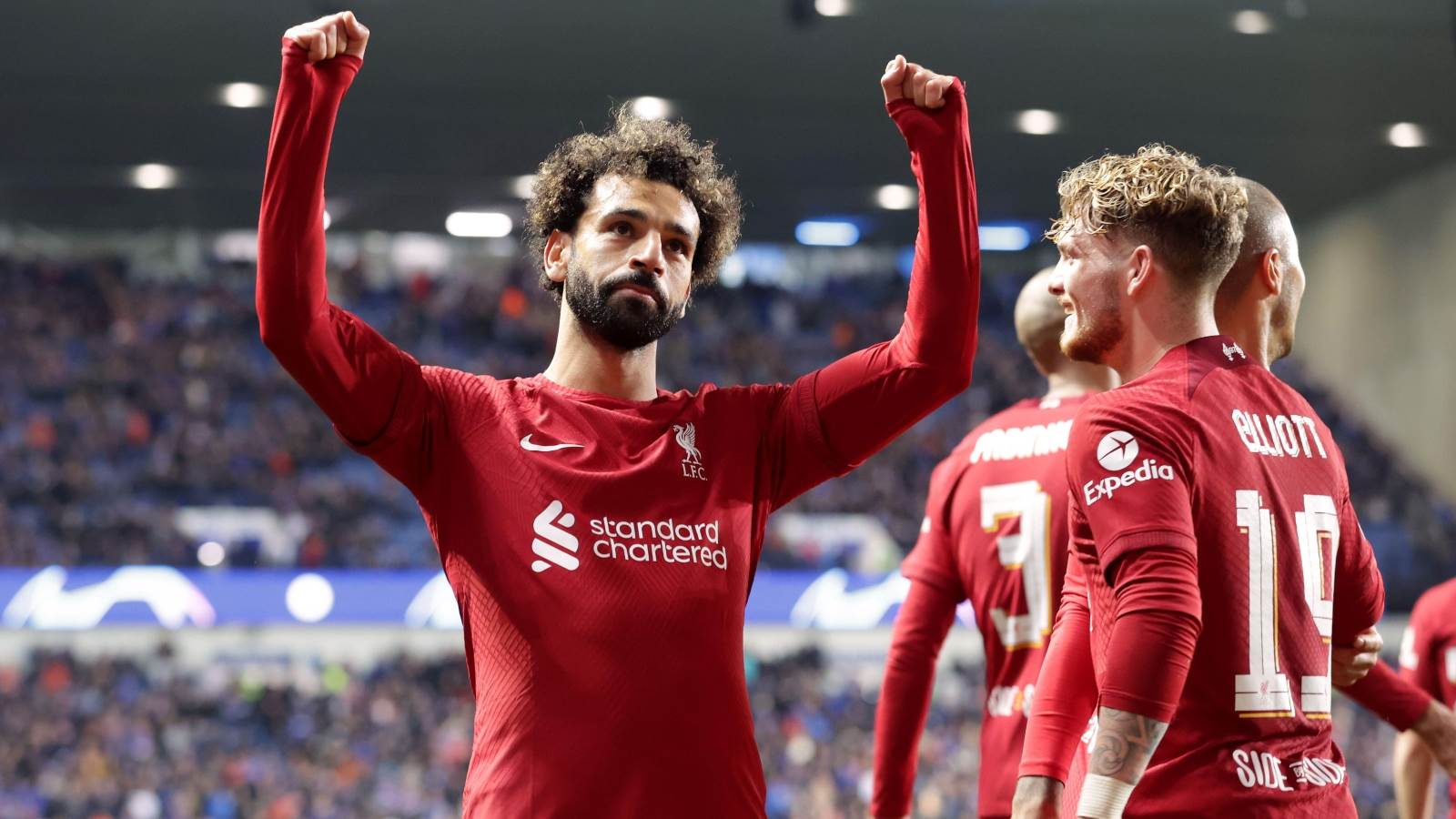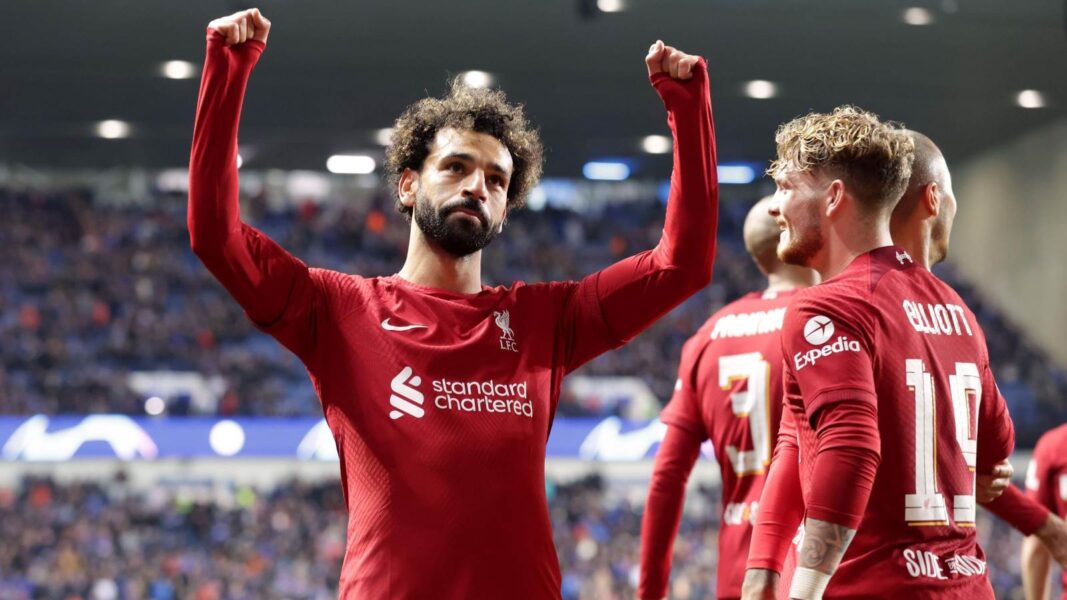 Mohamed Salah telah mencetak gol dalam empat dari lima pertandingan kandangnya di Liga Primer untuk Liverpool melawan Manchester City, termasuk di masing-masing dari tiga pertandingan terakhir berturut-turut. Hanya Jimmy Floyd Hasselbaink (antara Desember 2000-Desember 2004) yang pernah mencetak gol dalam empat penampilan kandang berturut-turut melawan Manchester City di kompetisi tersebut.
Prediksi Liverpool VS Manchester City
Selama bertahun-tahun, hasil pertandingan ini biasanya menunjuk ke arah tim mana yang akan memenangkan gelar Liga Primer. Tapi kali ini adalah bentrokan antara dua tim dengan ambisi yang berbeda. Jurgen Klopp telah mengesampingkan Liverpool dari persaingan gelar juara Liga Primer tetapi terlepas dari perjuangan tim The Reds untuk meraih konsistensi, The Reds tetap menjadi salah satu tim yang dapat merusak ambisi Manchester City untuk kembali mengklaim gelar Liga Primer musim ini. Kita bisa mengharapkan sebuah kejutan di Anfield namun City tetap menjadi favorit untuk pertemuan kali ini.